Bottle Displays - Don't Be Just Another Bottle in the Crowd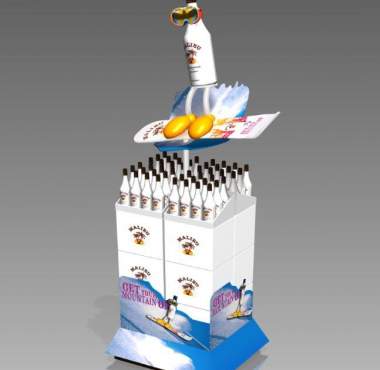 The wine and liquor industry has been and will always be a competitive one. Wine and liquor sales have increased since 2015 -- spirit sales were up 2%, with consumers gravitating towards high-quality options. As for wine, consumers are increasingly buying their wine from liquor stores versus wineries. Millennials make up 36% of wine drinkers, and they are interested in a variety of wines -- including options from across the U.S. as well as international brands.
So, you have your perfect wine or distilled liquor, the right label for your brand, but now it's time to make a sale.
How do you get your bottle to stand out?
With so much vying for customer attention in what is frequently limited space, it's important to stand apart from the crowd and get your product noticed in a sea of bottles. Looking to do this? Hawver can help.
Make a Statement with Bottle Displays
Get noticed with statement bottle displays. Large but not intruding, the right merchandising display for your brand can make all of the difference. For example, a cascading champagne bottle display resonates the classiness of the drink while emulating the emotion of celebration and good times that are associated with it. Plus, the nature of the display is sure to get noticed.
Lights
Moving lights undoubtedly catch people's attention. Make sure their eye is drawn to your product in the midst of the busy store. Flashing lights, fading lights and colored lights are just a few options to choose from. What represents your brand best?
Sounds
Music or sounds that resonate with your brand and product are memorable. Songs make people feel nostalgic as they have the power to bring you back in time, as well as help a person remember something better than they might without music associated with it. Especially with the majority of wine being bought by the millennial generation, choosing sounds that make them feel good will entice them to buy your product over your competitors.
Grab attention and make sales in the competitive environment of the liquor and wine stores with Hawver's help. Our expert team of engineers will work with you to design a unique bottle display that makes your product stand out.