Stand Apart from the Crowd: How a High-quality Floor Display Makes all the Difference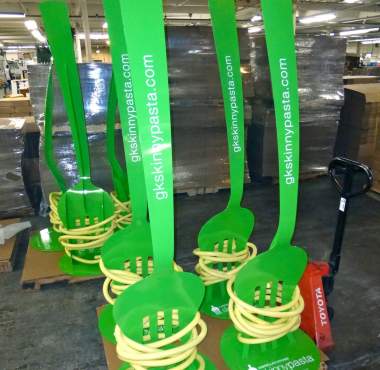 Get your product noticed with a display that works well for your brand. Customers will be captivated by your product with a life-size standee or floor display as the center of attention in the bustling retail world. With many options to choose from, such as merchandisers or promotional pieces, the right floor display is one that complements your brand perfectly.
Why Quality Makes a Difference
In a saturated retail environment, it is essential to get your product to stand apart from the others. You want busy consumers to stop and not only notice your product, but decide to make the final purchase. That is why point-of-purchase (POP) displays are so important, and a quality one at that, will make all the difference.
Many retail locations see a lot of day-to-day traffic, so you need to ensure that your floor display is durable and can last while looking its best, regardless of consumer interaction. Restocking, consumer interest and possibly moving locations are all factors to be considered when placing a floor display into a store. But a high-quality piece will be able to stand up to all of that.
A high-quality floor display is undoubtedly more noticeable versus a lower quality display – it will resonate with your customers and create a mindset in which they associate quality with your brand.
How Hawver Can Help Get Your Brand Noticed
Hawver has in-depth experience in creating unique floor displays for an array of industries. They have the expertise and creativity to build a high-quality floor display that will not only increase interest in your product, but get consumers to purchase. The team of design engineers will work closely with you to ensure that your high-quality flood display stands out from the crowd, and also stays within your budget. If you are looking for a high-quality displays for your product, get in touch with Hawver today.